Power Generation Client Receives Water Cooling Make Up Pump from MTE
From our purpose-built engineering workshop, we have plenty of experience in the design, repair, and manufacture of equipment for the power generation industry. In one of our most recent projects, our team had the opportunity to completely refurbish a cooling water make up pump for a large power generation client. Below, we provide details of how we conducted this with great results:
Stage 1: Assessment
This involved a complete strip down and cleanse of the existing pump from the client.
Our engineers assessed the condition of the pump, analysing any damage or need for repairs. This allowed us to identify the scope of the task at hand and plan our course of action.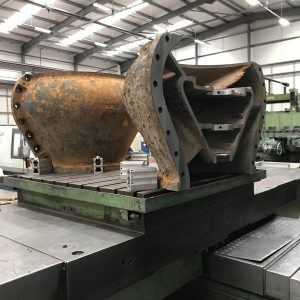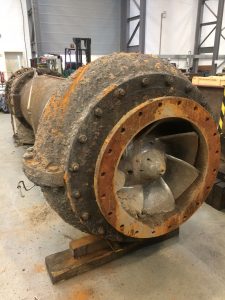 Stage 2: Manufacture
The next step was to begin manufacturing new parts for the pump, all of which was completed in house at our own facility. The manufacture included:
Weld-repairing the large stainless-steel impeller
Manufacturing the shaft of the pump, using our DSG Type 36 Manual Lathe. This machine has a swing at approximately 1 metre and over 6 metres between centres. This is testament to the incredible capacity of the machine.
Large vertical and horizontal borers taking care of the pump segments
The pump was rebuilt using liquid nitrogen shrink fitting and a copious range of torqueing equipment by our fitters; we have extensive knowledge of fits and clearances for various types of pumps.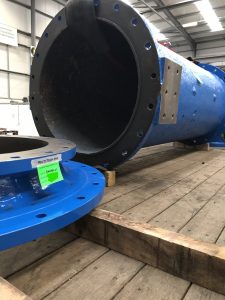 Stage 3: Outsourcing
The only outsourcing required involved using our trusted coating supplier, who provided an excellent job in the coating of the pump.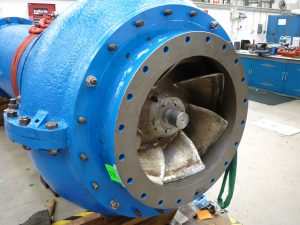 Stage 4: Execution and delivery
Similar to most of our refurb projects, this whole service was completed in a very quick turnaround time; fitting in with our customers tight schedule.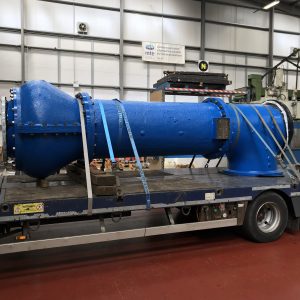 At MTE, we have a long-standing knowledge and experience of fitting and building large pumps, as well as the refurbishment and repair. From our facilities, we have the ability to manufacture any part of these pumps, in addition to the procurement of casting if it is ever necessary.
If you would like to work with us or discuss a project, please do not hesitate to give us a call on 01977 670514 or email us at sales@mteuk.com.