Heat Sinks Slots for Overseas Multi-National Corporation
At MTE, we have the experience, expertise and equipment to complete jobs of all sizes for businesses big and small. We recently completed a job for an overseas multi-national corporation to create a number of tapered heat sinks slots, and both MTE and our client were more than satisfied with the end result.
Rather than using custom tools, our milling team used off the shelf vended tools to minimise lead time and to reduce cycle time whilst still maintaining a high level of quality; we reduced complete manufacture to a two set up strategy. We were able to achieve this with our CAD/CAM suite (computer aided design and manufacturing) and high-speed machining using a Haas VF4 SS, a super-speed vertical machining centre.
The heat sinks were manufactured from ductile cast iron, a material known for its strength, wear resistance and excellent heat dissipation. We made sure to use automated cleaning and deburring in the machine after each part of the process to guarantee that the risk of our team being exposed to machining dust, burrs and coolant was minimised.
Once our vastly experienced milling team had finished their machining work, the heat sinks were checked and inspected to ensure they lived up to our high, professional standards before being readied for export to our client. This job was towards the smaller end of our capacity scale, but was completed with the same degree of quality and accuracy with which we approach all our work. Take a look at the finished product below: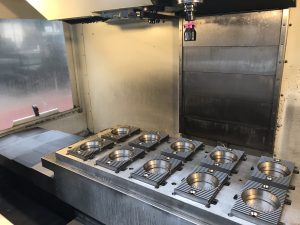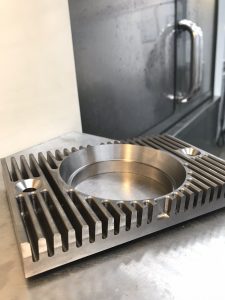 MTE offer a range of engineering services, including machining, fitting and assembly, to power and manufacturing companies all over the country. Our purpose-built, secure, temperature-controlled workshop and array of fitting equipment mean that we are able to finish any job with precision, care and quality. To find out more about the services we provide, feel free to get in touch by calling 01977 670514 or by emailing sales@mteuk.com.